CarTeck configurator: Install your ideal door online
More than 200 colours, various surfaces, structures from smooth to ribbed, with or without glazing, as up-and-over or sectional doors. The CarTeck garage door provides home owners with artistic freedom - from postmodern to a rustic style. The -door configurator- enables you to make a personal virtual selection even before you make your final decision. If you wish to see what your door will look like in advance, all you require is Internet access and a photo of your garage: Just load the photo into the -door configurator- and select your desired specifications. If you wish to replace an old garage door with a new one, we also offer a range of special renovation sizes and versions.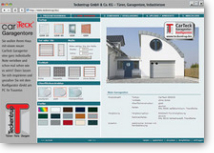 The various combination possibilities fulfil almost every garage door wish - but safety and comfort should also be ideal. Therefore, our state-of-the-art doors are TÜV tested and equipped with finger pinch protection and usually an electric drive and remote control. A double-skinned door also insulates your garage - particularly interesting if your workbench is located there. And if security is of the utmost importance: The doors can be optionally equipped with burglar protection.
Today, the sectional door is the most popular model. The door opens vertically so the space in front of and behind the door can still be used. Surfaces: The door can be ribbed (horizontal grooves) or panelled (Georgian/Cassette) with a "woodgrain", "stucco", "smooth" or "microprofiled" surface. Colours: We offer 13 trend colours and more than 200 RAL colours. And our wood-look surfaces, such as Golden Oak, Mahogany or Dark Oak, provide a rustic country house style.Design and glazing elements: Numerous glazing elements and stainless steel appliqués give every garage an individual and unique touch.

---