Security is in the details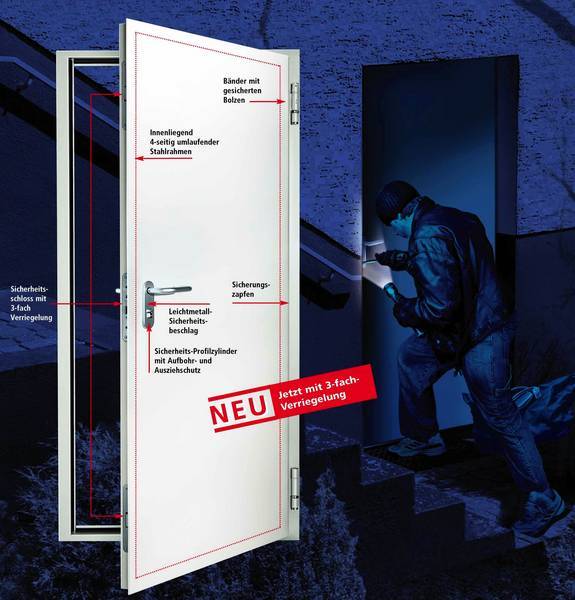 Lock out burglars
Burglars know the weak spots of a house - and these usually always include the doors. Everything may look safe and secure through your eyes (e.g. several locks), but a thief knows exactly how to get passed supposedly secure entrances. -Many home owners only protect the front door, but burglars often enter a house through a cellar or side door,- explains Friedhelm Schwake, safety expert at door manufacturer Teckentrup. For example, the German police have drawn up a -list of tested products- which includes doors with increased burglar protection. 
DIN classifies resistance classes (WK1 to WK4). Class WK2 doors can withstand forced entry, e.g. with screwdrivers, pliers, etc. - and foil approx. 80 per cent of all break-ins. Take a look at the test results of renowned door manufacturers (e.g. Teckentrup). 

Remember side entrances
-Home owners often have secure front doors - but forget side doors. And these are usually less visible, thus providing excellent conditions for burglars to go about their work,- warns Schwake. Today, even garages, sheds and outbuildings are full of expensive tools and equipment which means that they also require increased protection. But security no longer means the application of ugly metal doors. The numerous surfaces, colours and integrated windows of the cellar security door from Teckentrup offer a wide spectrum of design opportunities.
The door-s construction details determine how difficult the -task- will be for the burglar. Friedhelm Schwake states four factors which provide extra security:
The door mounting: Robust hinges with so-called -bolt protection- secure the door to the frame.
Additional security bolts: They fasten the door to the frame on the hinge side. Together with the lock they secure the door on both sides and prevent it being forced open on just one side.
Anti-drilling and extraction protection ensure that thieves can neither pick nor remove the lock with skeleton keys, screwdrivers or pliers.
Multiple locking systems: They engage with the frame at numerous positions.
---