Compact Roller Shutter "easy": Installation Time Reduced by 40%
A high degree of prefabrication and intelligent installation aids help to cut installation time by up to 40% for the new "easy" roller shutters from Teckentrup. Simple installation can be carried out by just one person – moreover, potential sources of error are minimized during installation.

A door should be easy to install, favourably priced and robust. The new roller shutter system from Teckentrup satisfies all these requirements. Many of the elements are pre-assembled or are assembled on-site without much effort. Installation can therefore be carried out by just one person in almost half of the usual time. 

Pre-assembly saves time
Installation occurs in just a few steps: The space-saving console is connected to the pre-drilled guide rail, and time-consuming measuring tasks, e.g. for attaching the console and determining the winding shaft position, are a thing of the past. The shutter curtain and the robust profiles are connected via a high-strength connection system, the octagonal winding shaft and the shaft journals are fully galvanized. The floor seal is integrated into the bottom profile and ensures a harmonious appearance inside and outside.

Ventilating or heat-insulated door with drive
The roller shutter is available in three versions: The aluminium roller grille "TG-X", the single-skinned, perforated roller shutter profile "6010 visio" and the double-skinned, heat-insulated profile "ThermoTeck". The pre-wired control unit is integrated in the reliable brand name drive – comfortable operation occurs via a button with 3 options (open-stop-close).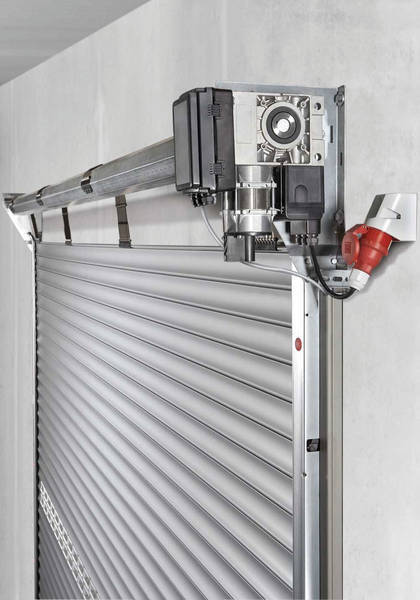 ---