Tested in accordance with the PTE Rosenheim GmbH regulations in collaboration with the VfS Verband für Sicherheitstechnik e.V. (association for security engineering) and its members, the responsible ministries of justice, and State Departments of Construction and Civil Engineering, Construction, Building and Infrastructure Service Authorities, prisons as well as manufacturers.
Dimensions
Width 750 - 1500 mm
Height 1750 - 2500 mm
Door leaf
Double-skinned
Rebated from 3 sides without a bottom buffer, or rebated on 4 sides with a bottom buffer
Rebate width minimum 20 mm (inner floor level minimum 15 mm above the outer floor level)
Door leaf thickness: 64 mm
Sheet thickness: 1.5 mm / 2 mm (cell side) thick, aligned steel sheets
Security bolt: 2 solid, galvanised bolts on the hinge side
Frame
Corner frame made of galvanised sheet steel, 2.0 mm thick, with impact absorbing buffer in the frame, prepared for 3 sided rotation, EPDM frame seal
Without floor recess with transport beam
3 robust double wall anchors on each side
Surface
Galvanized and prime coated door leaf and frame similar to RAL 9002 (grey-white)
Application areas
Courthouses
Police stations
Prisons
Airports
Barracks
Forensic clinics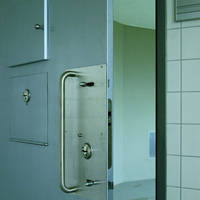 Maximum Security
Penetration-resistant toughened glass window (B) with a cover plate and magnetic locking, food hatch, lock with a stainless steel door-friendly cover, which combines all the important locking elements. Additional security via sliding bolts as quick-locking devices.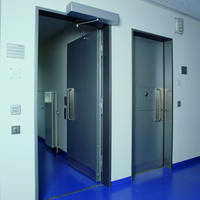 Automatic
Also with revolving leaf drive: Automatic opening from the inside via a pushbutton and from the outside via a key-operated switch.
Downloads